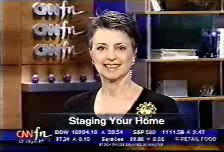 Click here to see Beth on CNN.

Are you planning to sell your home? Have you recently moved? Or are you just ready for a change?

neatness counts!

offers an alternative to traditional interior decorators and professional organizers. We specialize in organizing space and possessions, staging homes for sale, and easing the moving process. Additionally, we offer full interior design services to make your home as beautiful as it is functional.

Do you work in an office, either in a corporate setting or in your home? Chances are you spend more hours in your work environment than in your residence.

neatness counts!

can tailor an environment which will lead to greater productivity and creativity for you.


Did you know that...
The average person loses the equivalent of 1 hour a day or 2 weeks a year looking for things.

"Staging" a home is the smartest way to sell it quickly and for top dollar.

80% of clutter in homes is the result of disorganization -- NOT a lack of space.

80% of items filed in desk drawers will never be looked at again.

Removing clutter is the 2nd highest ranked New Year's resolution.